Unlock the past, understand the present, shape the future with EduNique!
Embark on a captivating journey through history, society, and culture with EduNique's expert-led Social Studies Tuition Classes. Enrich your knowledge.
Why EduNique for Social Studies Tuition Classes?
Our customized curriculum and one on one classes encourage the students to take a deep interest and understand the pillars of Social Studies as one of the important subjects that can teach them lessons and basics for life. Covering all the subjects as per the school curriculum, with an appreciation for the core values of all the subject matter – History, Civics, Geography and more. Our approach to the subject incorporates the school syllabus to cover all the topics of importance and help students learn important information that will help them understand these subjects as matter that will help them throughout their lives.
Enhancing Social Studies Education with Technology
Discover how our Social Studies Tuition Classes leverage technology to enhance your child's learning experience, facilitating effective teacher-student engagement, reinforcing fundamental social studies concepts, and igniting their passion for the subject.
Preparing Your Child for a Social Studies-Centered Future
Recognize the significance of nurturing your child's interest in social studies and related fields. Our classes equip them with the essential skills for future careers in areas like history, politics, and global studies.
Mastering Multitasking for Academic Excellence
Learn how technology integrated into our classes helps your child develop multitasking abilities, allowing them to proficiently manage multiple social studies tasks and excel in their academic endeavors.
Enhancing Visual-Spatial Skills for Deeper Understanding
Discover how our classes use technology to enhance your child's visual-spatial development, aiding them in grasping complex social studies concepts and historical contexts more effectively.
Problem Solving and Decision Making in Social Studies
Explore how our classes encourage your child to solve social studies-related problems and make informed decisions, offering valuable practice for their future success in fields like diplomacy, public policy, and international relations.
Fostering Collaboration in Social Studies
See how our Social Studies Tuition Classes promote collaborative learning, enabling your child to work with peers on various social studies projects, engage in group discussions, and share resources, preparing them for teamwork in their social studies journey.
Boost Your Child's Success with EduNique's Social Studies Tuition Classes.
Learning about Social Studies is a part of a holistic curriculum that can help your child gain the knowledge and create a strong base for important subjects like history, civics, economics, geography which are essential in all walks of life.
Empower Your Child's Academic Journey with EduNique's Social Studies Tuition Classes.
Our teaching methodology for Social Studies is developed with the help of top pedagogy professionals that are experts in the subject matter and know how to make lessons interesting for a child.
This is done through:
– Learning lessons with the help of visual cues like flow charts
Learning facts and concepts
Intensive practice of diagrams and graphs.
Regular short tests to test knowledge
One on one doubt clearing sessions
Solving mock papers in the expected exam formats to learn time
management and making the student confident and exam-ready
Revision sessions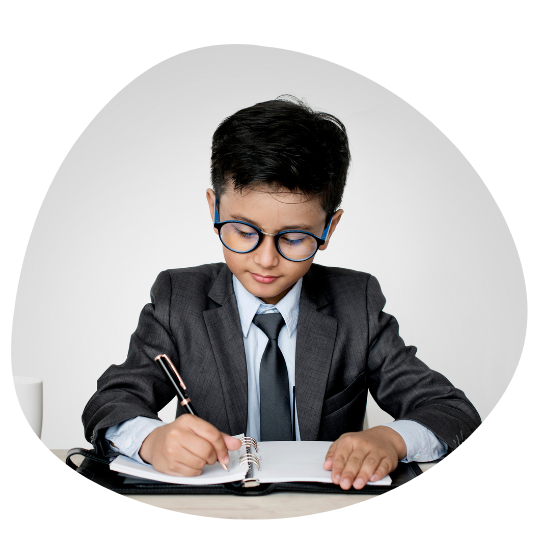 Frequently asked questions
At EduNique, we understand the importance of a well-rounded education. That's why our Social Studies tuition classes are specifically designed to not only help your child excel in their academics, but also develop critical thinking skills and foster a deeper understanding of the world around them. Our experienced tutors utilize interactive teaching methods and personalized lesson plans to engage students and enhance their learning experience. By joining our community, your child will gain the necessary knowledge and skills to excel in the subject, setting them up for success in future academic pursuits and in life. Let EduNique be the key to unlocking your child's full potential.
At EduNique, we understand that academic success is not just about memorizing facts and figures. Our Social Studies tuition classes go beyond traditional teaching methods and focus on developing critical thinking skills and a deep understanding of global issues. Our experienced tutors create a supportive learning environment where students can engage in meaningful discussions, ask questions, and develop their own unique perspectives. We also provide personalized feedback and tailored lesson plans to cater to each student's individual needs. With EduNique, your child will not only excel academically but also gain invaluable skills that will prepare them for a successful future.
At EduNique, we take a comprehensive and engaging approach to teaching Social Studies. Our experienced tutors use a combination of traditional teaching methods such as lectures and class discussions, as well as innovative techniques like interactive games, role-playing exercises, and multimedia resources. This allows us to cater to different learning styles and keep students actively involved in their education. Additionally, our small class sizes ensure that each student receives personalized attention and guidance. We also offer regular assessments to track progress and identify areas for improvement. Overall, our goal is to make learning Social Studies enjoyable, meaningful, and effective for every student in our EduNique community.
At EduNique, we pride ourselves on selecting only the most qualified and experienced tutors to teach our Social Studies tuition classes. Our tutors not only have extensive knowledge and expertise in the subject, but they also have a proven track record of helping students excel in their studies. Rest assured that your child will be learning from the best at EduNique, giving them the best chance to succeed in life.
By joining the EduNique community, parents will have access to top-notch Social Studies tuition classes for their children. Our experienced and dedicated tutors use innovative teaching methods to make learning engaging and effective. Your child will not only excel academically but also develop critical thinking and problem-solving skills that will benefit them in all aspects of life. Moreover, being part of our supportive community allows parents to stay updated on their child's progress and receive personalized feedback from our tutors. With EduNique, you can be confident that your child is receiving the best education and will have a strong foundation for future success.
At EduNique, we are dedicated to helping your child reach their full potential in Social Studies. Our experienced and passionate tutors create a positive learning environment where students can engage with the subject material and build a strong foundation of knowledge and understanding. Through our tailored tuition classes, your child will not only see an improvement in their grades but also in their critical thinking skills, confidence, and overall academic performance. You can expect to see your child excel in their Social Studies exams and have the necessary skills to succeed in life beyond the classroom. Join our community at EduNique and watch your child thrive.
WHAT PEOPLE ARE SAYING ABOUT US
Don't just take our word for it.
Gaurik Kanakrajan
30. June, 2023
Exceptional Biology tuition at Edunique! The tutors are highly knowledgeable and passionate about the subject. They create a conducive learning environment and provide comprehensive explanations. The small class size allows for personalized attention and active student participation. I highly recommend Edunique for Biology tuition needs!
HARSH KASHYAP
22. June, 2023
I recently attended Edunique's STEM Workshop, and it was an incredible experience. The workshop provided a perfect blend of theoretical knowledge and hands-on activities. The facilitators were knowledgeable and passionate, making the sessions engaging and interactive. I was impressed by the state-of-the-art equipment and resources available, allowing us to explore various STEM concepts. The workshop not only expanded my understanding of STEM subjects but also ignited a deep interest and curiosity within me. I highly recommend Edunique's STEM Workshop for an enriching learning experience.
Sahil batra
14. June, 2023
Edunique Robotics Classes surpassed my expectations. The instructors are knowledgeable, enthusiastic, and foster a fantastic learning environment. The curriculum is comprehensive, nurturing creativity and problem-solving skills. My child's interest in robotics has skyrocketed, and they're consistently engaged and excited about their projects. I highly recommend Edunique Robotics Classes to any parent seeking a top-notch robotics education. It's been an incredible experience!
Mahaveer prajapat
5. June, 2023
Edunique's English Handwriting classes have been a game-changer for me! The instructors are highly skilled and passionate about teaching. The curriculum is well-structured, focusing on letter formation, spacing, and overall aesthetics. The classes are engaging and interactive, allowing for personalized feedback and improvement. I have seen a remarkable improvement in my handwriting since joining. Highly recommended for anyone seeking to enhance their penmanship skills!
vaishali tyagi
28. May, 2023
I had an amazing experience at Edunique English Classes! The instructors are knowledgeable, experienced, and passionate about teaching. The curriculum is comprehensive, covering all aspects of English learning. The supportive and inclusive environment helped boost my confidence. They use technology effectively for engaging lessons. The staff is friendly and responsive. Highly recommend Edunique English Classes for anyone looking to improve their English skills.
Preity Sachdev
4. February, 2023
Glad and privileged to be a part of such organization. Where putting efforts are worth my time and energy. I have always been praised well for my work and experience.
aurosree paul
4. February, 2023
Edunique is truly a unique system of education and is made to fit children of all levels and age groups. I have been the French Instructor for the past 15 months now and I have seen all my students excel in their school exams and their classes. As for the management, I have always received my salary on time every month. Akanksha ma'am has been understanding, loving and patient towards me since November 2021. I urge you all to enroll your children in these classes and you will see the results for yourself!
Individualized Learning and Personalized education at pre primary schooling level is a method of learning where personal tutor customizes lesson plans according to the specific needs of the…
You don't need special tools to make your children talented, just a little nudge in the right direction can do wonders!Empowering an educational model that directs towards personalized…
Comments Off

on Significance of Early Childhood Educational Programs
The world of education is running a rat race, where we need to prepare the kids from an early age to stay up with the competition, without losing…