Perfect Your Handwriting Instantly with Edunique!
Why Edunique for English Handwriting ?
Edunique's English handwriting classes are designed to help you achieve perfect penmanship, whether you're a student, professional or just looking to improve your handwriting skills. With easy-to-follow exercises and practical tips, Edunique makes the process of learning elegant handwriting an enjoyable one. Say goodbye to illegible scribbles and hello to stunning scripts that will make heads turn. Trust us – your words are worth it!
Why Edunique for English Handwriting ?
For younger children:
Handwriting activates the brain more than using a keyboard because it involves more complex motor and cognitive skills.
Handwriting contributes to reading fluency and command over languages because it activates the visual perception of letters.
Handwriting is a predictor of success in other subjects as well.
As children get older:
Many standardised assessments are based on written exercises, particularly in time-limited written examinations. That is why it is important to have fast and clearly legible handwriting. This factors in as a major form of assessment for several formal qualifications.
Illegible handwriting can cause poor self-esteem in students in their formative years. Poor self-esteem can trigger loss of confidence, which is directly reflected in their performance.
Children who experience difficulty mastering handwriting may avoid writing and produce poor written work. Children with poor handwriting will find it hard to proofread their own work. They will then fail to spot their mistakes and their confidence may dip even lower.
Examiners need to decipher what is written. Otherwise, pupils will achieve lower marks, even where the content may be good. Many states standardised assessments and handwritten essays emphasise the importance of handwriting. Without fast and legible handwriting, students may miss out on learning opportunities and under-achieve academically.
Handwriting is critical to creative, well-crafted text affecting both fluency and the quality of the composition. Handwriting contributes to better writers. Children who have mastered it are better, more creative writers.
Taking notes by hand is vital for all students of all ages because it improves attention, comprehension, and results. Students' notes must be self-legible, otherwise, they are worthless.
Into adulthood:
Good handwriting is essential long after graduation Jotting down a shopping list, writing a birthday card, taking down a phone message, completing a form at the bank, filling out immigration forms….handwriting is part of our daily lives. It is on show to others and may be used to make judgments about us.
Good writing skills can help you in life. If you're trying to get a job, good writing skills make you more desirable to the employer. One of the first things an employer looks at is your cover letter or resume.

Throughout life:
Children, students, teachers, lecturers, parents feel happy, confident and inspired by good handwriting skills. Good handwriting is the platform for achievement in the workplace and self-assurance in life. It is and will remain, the key to progress and success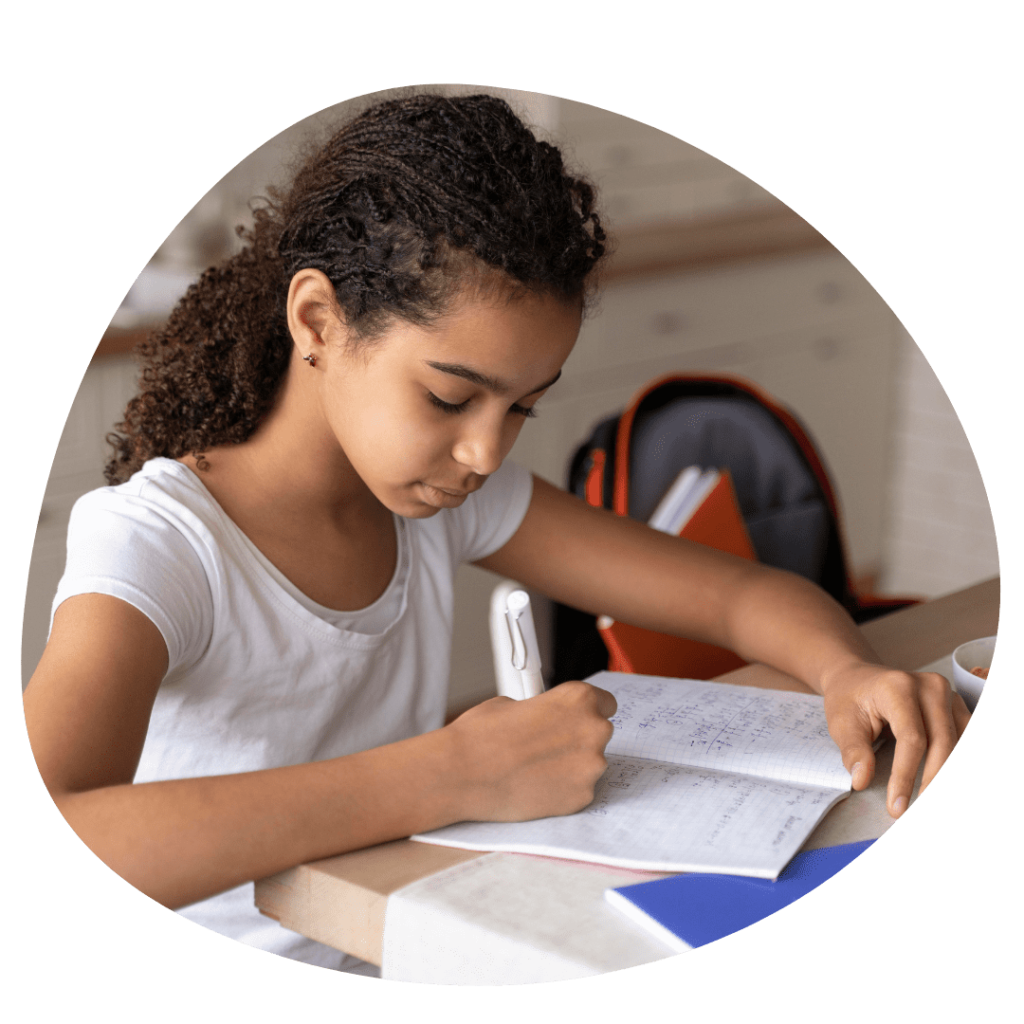 Methodology:
Special attention to each letter formation followed by consonant-vowel combinations
Then word followed by line formation followed by paragraph formation
Two specially designed practice handwriting books
Lead to joining letters and running hand
Writing with speed and neatness
3 recapitulation classes a month or later
Frequently asked questions
Edunique is a handwriting book that helps you improve your English handwriting in a unique way. The book contains step-by-step instructions and illustrations to guide you through the process of improving your handwriting. The book also includes tips on how to create beautiful and professional looking letters, symbols, and words. Plus, you can learn useful techniques and practice drills that will help you develop better control over your penmanship in no time at all.
The Edunique English handwriting book is designed to make perfecting your handwriting easy and fun. It includes simple practice exercises, tutorials and tips to help you get the most out of the book. You'll start by learning the basics and gradually build up your skills. You can practice in short bursts every day and soon you'll be able to write like a pro!
Absolutely! Our Edunique handwriting book caters to all ages and skill levels. Whether you're a student looking to ace an English exam, someone seeking to brush up on their skills or a complete beginner, our book will help you perfect your handwriting. We provide easy-to-follow instructions and plenty of practice worksheets to help you achieve the perfect penmanship. All materials are designed with the utmost care, so even the most inexperienced student can quickly improve their writing abilities.
Absolutely! We have countless stories from people all around the world who have seen their handwriting improve after using our English handwriting book. One user, from Spain, stated that "I was having trouble with my English handwriting and I couldn't even write a sentence without making mistakes. After using Edunique's book, I can now write in beautiful cursive English!" We are so happy to hear how successful our users have been with Edunique.
WHAT PEOPLE ARE SAYING ABOUT US
Don't just take our word for it.
Gaurik Kanakrajan
30. June, 2023
Exceptional Biology tuition at Edunique! The tutors are highly knowledgeable and passionate about the subject. They create a conducive learning environment and provide comprehensive explanations. The small class size allows for personalized attention and active student participation. I highly recommend Edunique for Biology tuition needs!
HARSH KASHYAP
22. June, 2023
I recently attended Edunique's STEM Workshop, and it was an incredible experience. The workshop provided a perfect blend of theoretical knowledge and hands-on activities. The facilitators were knowledgeable and passionate, making the sessions engaging and interactive. I was impressed by the state-of-the-art equipment and resources available, allowing us to explore various STEM concepts. The workshop not only expanded my understanding of STEM subjects but also ignited a deep interest and curiosity within me. I highly recommend Edunique's STEM Workshop for an enriching learning experience.
Sahil batra
14. June, 2023
Edunique Robotics Classes surpassed my expectations. The instructors are knowledgeable, enthusiastic, and foster a fantastic learning environment. The curriculum is comprehensive, nurturing creativity and problem-solving skills. My child's interest in robotics has skyrocketed, and they're consistently engaged and excited about their projects. I highly recommend Edunique Robotics Classes to any parent seeking a top-notch robotics education. It's been an incredible experience!
Mahaveer prajapat
5. June, 2023
Edunique's English Handwriting classes have been a game-changer for me! The instructors are highly skilled and passionate about teaching. The curriculum is well-structured, focusing on letter formation, spacing, and overall aesthetics. The classes are engaging and interactive, allowing for personalized feedback and improvement. I have seen a remarkable improvement in my handwriting since joining. Highly recommended for anyone seeking to enhance their penmanship skills!
vaishali tyagi
28. May, 2023
I had an amazing experience at Edunique English Classes! The instructors are knowledgeable, experienced, and passionate about teaching. The curriculum is comprehensive, covering all aspects of English learning. The supportive and inclusive environment helped boost my confidence. They use technology effectively for engaging lessons. The staff is friendly and responsive. Highly recommend Edunique English Classes for anyone looking to improve their English skills.
Preity Sachdev
4. February, 2023
Glad and privileged to be a part of such organization. Where putting efforts are worth my time and energy. I have always been praised well for my work and experience.
aurosree paul
4. February, 2023
Edunique is truly a unique system of education and is made to fit children of all levels and age groups. I have been the French Instructor for the past 15 months now and I have seen all my students excel in their school exams and their classes. As for the management, I have always received my salary on time every month. Akanksha ma'am has been understanding, loving and patient towards me since November 2021. I urge you all to enroll your children in these classes and you will see the results for yourself!
Individualized Learning and Personalized education at pre primary schooling level is a method of learning where personal tutor customizes lesson plans according to the specific needs of the…
You don't need special tools to make your children talented, just a little nudge in the right direction can do wonders!Empowering an educational model that directs towards personalized…
Comments Off

on Significance of Early Childhood Educational Programs
The world of education is running a rat race, where we need to prepare the kids from an early age to stay up with the competition, without losing…